School News
ACEONDO registration for TRCN professional qualifying examination
ACEONDO  – This is to notify all 2021/2022 DEG IV and NCE III Students that have paid for the Teachers Registration Council of Nigeria (TRCN) Professional Qualifying Examination Integrated (PQEI) that they are to follow the procedure below to register for the examination:
i. Visit trcn.aceondo.edu.ng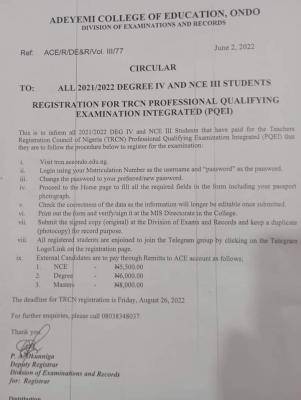 ii. Login using your Matriculation Number as the username and "password" as the password.
iii. Change the password to your preferred/new password
iv. Proceed to the Home page to fill all the required fields in the form including your passport photograph
v. Check the correctness of the data as the information will longer be editable once submitted.
vi. Print out the form and verify/sign it at the MIS Directorate in the College.
vii. Submit the signed copy (original) at the Division of Exams and Records and keep a duplicate (photocopy) for record purpose.
viii. All registered students are enjoined to join the Telegram group by clicking on the Telegram Logo/Link on the registration page.
ix. External Candidates are to pay through Remitta to ACE account as follows;
NCE – #5,500.00
Degree – #N6,000.00
Master – #8,000.00
The deadline for TRCN registration is Friday, August 26, 2022
For further enquiries, please call 08038348037