AD-COHST – Aminu Dabo College of Health Sciences and Technology situated at No. 9C Civic Centre Road, Kano wishes to announce its 2022/2023 Admission Exercise for HND, ND, Professional Diploma and Certificates in the following programmes:-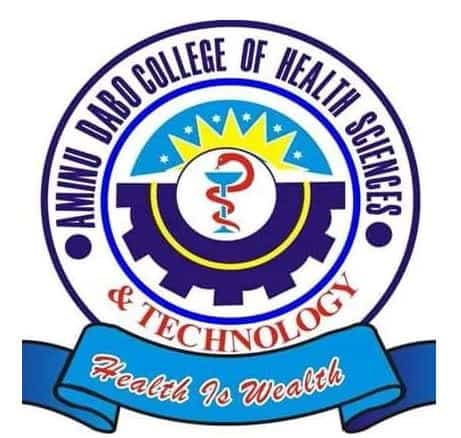 HIGHER NATIONAL DIPLOMA (HND) PROGRAM
1. HND (Direct) in Dental Therapy
2. HND for candidates with ND certificate in Dental Therapy
3. HND in Health Information Management
4. HND (Direct) in Environmental Health Technology
5. HND in Community Health
NATIONAL DIPLOMA (ND) PROGRAM (Through JAMB process)
1. ND in Community Health
2. ND in Environmental Health Technology
3. ND in Health Information Management
4. ND in Dental Therapy
PROFESSIONAL DIPLOMA PROGRAM
1. Diploma in Community Health Extension Worker (CHEW Retrainee)
2. Diploma in Community Health Extension Worker (CHEW)
3. Certificate in Junior Community Health Extension Worker (JCHEW)
4. Diploma in Health Information Management (HIM)
5. Certificate in Pharmacy Technician (PT)
6. Diploma in Dental Surgery Technician (DST)
7. Diploma in Medical Laboratory Technician (MLT)
8. Diploma in Medical Laboratory Technician (Retrainee) for those that possess MLA or equivalent.
9. Diploma in Dispensing Opticianry (DOP)
MODE OF APPLICATION
Interested applicants can visit our College website/portal. www.ad-cost.educ.ng and make payment by using card, transfer USSD or generate RRR (Remita Retrieval Reference).
Fill the application form online and submit accordingly.
Cost of Application form is N10,000:00k
BASIC ENTRY REQUIREMENTS
Prospective applicants wishing to enrol in any Diploma program must possessed five credit in English language, Mathematics, Biology, Chemistry and Physics in SSCE (WAEC or NECO 'o' Level).
For further enquiries;- e-mail to admission@ad-cohst.edu.ng/ad-cohst@gmail.com.
or call GSM 09030808334 or 08121117048
Aminu Dabo College of Health Sciences and Technology is the first Private Health lnstitution in the North-West Political Zone of Nigeria accredited by NBTE and other Health Professional Regulatory Agencies and Bodies in Nigeria.
The College has an array of state-of-the-art of learning facilities, equipments and a decent Hostel for both male and female students.
Aminu Dabo College of Health Sciences Technology our motto (HEALTH IS WEALTH)
Abdullahi Usman
Head, PR & Publicity
June 13, 2022.