For the 2023 AIG Scholarships, applications from adequately qualified Nigerians interested in a career in public service are being accepted to pursue a Master of Public Policy at the Blavatnik School of Government, University of Oxford.
Future public sector executives who have shown a passion for the field have each received scholarships worth more than £50,000. Scholars return to their home countries after earning their degrees and use what they have learned to strengthen policy decisions, support reforms, and advance their countries' growth.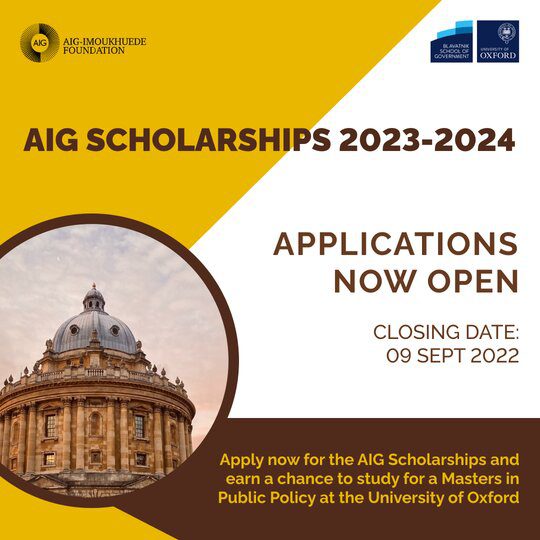 Scholarship Sponsor(s): Africa Initiative for Governance (AIG)
Scholarship Type: Full Funding
Host Institution(s): University of Oxford
Scholarship Worth: £50,000
Number of Awards: Several
Study Level: Postgraduate (Masters)
Nationality: Nigerians
AIG Scholarships for Nigerians | Eligibility Criteria
To be considered for the AIG Scholarships for Nigerians 2022/23, interested applicants must meet the following criteria:
Be a Nigerian currently working in the public sector (Ministries, Departments, Agencies & Parastatals) at either Federal or State levels.
Aged between 25 and 45 years.
Have a minimum of seven (7) years (combined private & public sector) work experience.
Have a bachelor's degree with a minimum of second-class upper qualification.
Applicants should have strong intellectual capacity, demonstrable leadership qualities and a passion to contribute to the development of the Nigeria's civil service.
Application Procedures
How-to-Apply: Interested applicants for the AIG Scholarships for Nigerians 2023 are to complete an online application on or before the application deadline.
Application Deadline: 9th September 2022