Dukka Incorporated Recruitment – Dukka Incorporated is seeking the services of both graduates and experienced job seekers to fill the vacant positions in their company.
Apply for the ongoing Dukka Incorporated Recruitment 2022. See the 6 job positions, descriptions, eligibility, and how to apply.
Dukka was founded to make it easier for individuals and small businesses to manage their finances better. We have solved a small part of that problem, but our ambition is to go much further. For businesses, it is still extremely difficult to collect payments in every language, currency, payment method, and tax system. We strongly believe that everyone should be able to participate and thrive in today and tomorrow's digital economy, and no one or business should be left out because the technology is too great or the cost is too high.
We are recruiting to fill the following positions below: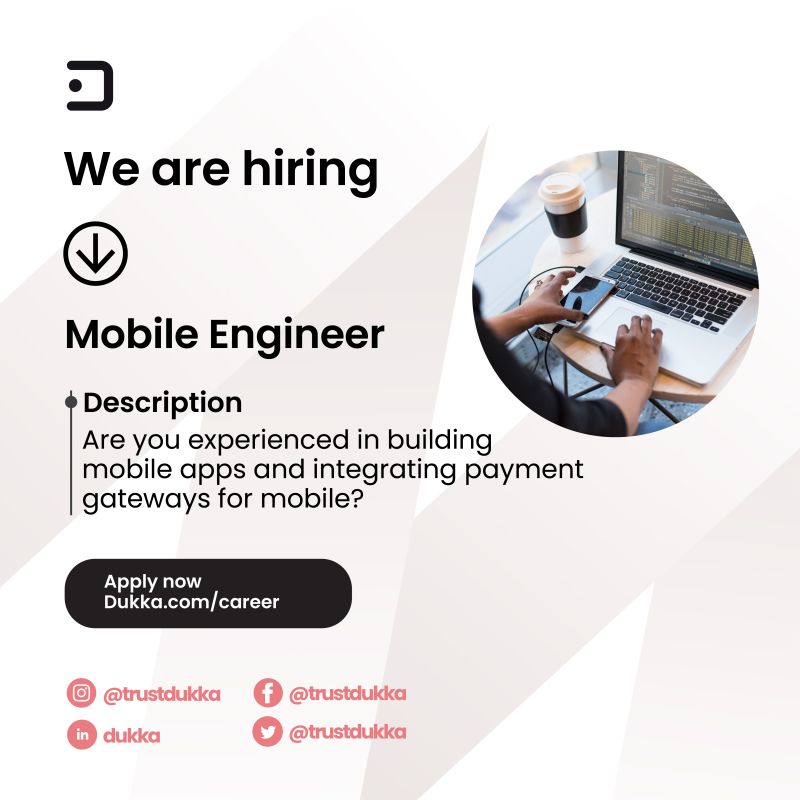 1.) Payment Integration Engineer
Location: Lagos
Requirements
We are looking for someone who has:
Bachelor's Degree and/or Master's Degree within the Engineering field.
A solid engineering background: 3+ years of experience in payments, backend, and API development. Ideally, you are super comfortable with Flutter, Android, Java, Python, or similar with experience in Full-Stack Development
Experience and excitement in the payments industry
Experience or interest in developing backends, APIs, libraries, and SDKs
The ability to listen well and internalize the best ideas from all over the organization while also setting a vision that others are excited to get behind
A preference for simple solutions and designs over complex ones, and good intuition for what is lasting and scalable
The ability to thrive in a collaborative environment involving different stakeholders and subject matter experts
The ability to put yourself in the shoes of your users and be a steward of crafting great developer and consumer experiences
Action mindset; familiar with agile software development practices
Up-to-date industry knowledge of Fintech, Marketplaces, and Payments
What it's like to work at Dukka
Dukka is helping individuals and businesses to fulfill their highest potential in finance management. Dukka helps small businesses to start, grow, and manage their online and offline businesses.
Dukka at heart is a technology company. When we commit to hiring, we hire people from varied backgrounds having a broad set of technology skills who are ready to take on some of the most challenging problems in the industry. Our goal is to enable business owners in emerging markets to run efficiently.
We don't think we know it all, as a matter of fact, we want people who believe the best is yet to come and through curiosity and creativity, will join us in building the future we all want to live in. We all want to work in a company of warm, inclusive people who treat their colleagues exceptionally well.
The kind of people who are committed to going out of their way to help other Dukkans to succeed at work.
Application Closing Date
Not Specified.
2.) Social Media Specialist
Location: Lagos
Job Responsibilities
Manage day-to-day management of the brand's social media content and ensure brand consistency.
Facilitate scaling brand and company awareness through various social media channels.
Create and implement social media strategies regularly.
Research related SEO keywords to create copies and content for the website/social.
Supervise all aspects of social media interaction between customers and the company, and ensure a positive customer service experience.
Create actionable plans to both grow and maintain followers through popular social media platforms such as Twitter, Facebook, Instagram, YouTube, and LinkedIn.
Ensure progress on all platforms by using analytical tools such as Google Analytics and others.
Monitor the brand's online reputation through social listening tools.
Drive daily engagement on all shared social posts and content.
Respond quickly to all requests on social media from customers across each channel.
Leverage on social media features and Influencers to drive acquisition and improve education, engagement, and customer experience across all social media platforms.
Research and analyze competitors' advertising links.
Set measurable goals that demonstrate improvement in marketing efforts.
Job Requirements
Degree in Business, Marketing, Sales, or relevant fields.
At least 2 years of work experience in social media management with records of achievements.
Must possess content creation and copywriting skills.
Must have practical knowledge of social media metrics to drive home overall business goals.
General knowledge of page- SEO, Google Analytics, Hubspot, etc.
Must possess customer service skills and be highly efficient in responding to customers' queries.
Proficiency in Microsoft and Google, and other relevant collaboration tools.
Must be persuasive and have solid communication and interpersonal skills.
Application Closing Date
Not Specified.
See Other Related Jobs:
3.) Mobile Engineer
Location: Lagos
Education
Whilst it would be great for you to have a Bachelor's / Master's Degree in software engineering from an accredited university, we place a higher value on significant work experience in the workforce to compensate where there is no qualification.
Skills and Qualifications:
Team leadership experience
Proficiency with Object Oriented Design
Proven track record of delivering high impact projects
Native Android and iOS: be able to work on custom packages
Familiarity with software project planning and collaboration tools such as Jira, Git is required to manage and collaborate in different projects with the rest of the team
Flutter: To build cross platform mobile apps for Android, IOS and Web. This should include; making responsive UIs, to efficiently query data, and also manage states in an optimized manner
Firebase: Should have experience with Cloud Firestore, Push Notifications, Cloud Functions and Analytics
Adobe XD: should know how to use Adobe XD to make use of design files to build the app
Experience with modern MVC Frameworks such as Django, Flask, etc will earn you more points
Experience with AWS will earn you more points
Experience with building and working with RESTful APIs
Experience with building Flutter packages and libraries
Experience with Database technologies such as Postgres, SQLite
We're a startup. You should be comfortable taking an imperfect feature specification, and driving it all the way to completion.
Why you will love to join Dukka
We're a rocketship
Paid time off
Work tools
Very flat team structure
Competitive salary
We support paid parental leave
You will have the opportunity to learn how the entire company operates
Being part of a fun and energetic Dukka family that's building the future we all want to live in
Joining a world-class team that's building the bedrock for commerce
And so much more!
Application Closing Date
Not Specified.
4.) Quality Assurance Engineer
Location: Lagos
Requirements
Education:
Whilst it would be great for you to have a Bachelor's / Master's Degree in Software Engineering from an Accredited University, we place a higher value on significant work experience in the workforce to compensate where there is no qualification
Skills and Qualifications:
In-depth understanding of JavaScript, ReactJs, Flutter, POSTMAN, Cypress, Jest, Enzymes and PHP.
3+ years of relevant QA technical experience.
2+ years of testing software & hardware.
Experience working in an Agile / Scrum development environment.
Mobile device testing on iOS and Android including phones and tablets.
Create clear, concise detail oriented test plans/cases.
Ability to understand and create test plans from specifications or verbal communications.
Liaison with Product teams, Engineering teams, and other QA teams.
Strong scheduling and project management/planning skills.
A proven record of prioritizing and coordinating work across a large number of product teams.
Application Closing Date
Not Specified.
5.) Finance Analyst
Location: Lagos
Education
It would be great for you to have a College Degree in Finance or Accounting.
A Master's of Business Administration (MBA) or a certified public accountant (CPA) designation, or both would be an added advantage.
Skills and Qualifications:
3 – 5 years in Accounting functions.
Professional certification will be an added advantage (ACCA / ICAN).
Must be vast in the preparation of Management account.
Must possess leadership character to lead a team.
Good understanding and interpretation of policy and procedure.
Good understanding of computer applications and effective usage.
Must possess good interpersonal relationship skills.
Must possess a high moral standard.
Good aptitude for paper and computer work.
Ability to lead and manage subordinates and staff for optimal performance.
Ability to persuade and convince to align with Management Expectations.
We're a startup. You should be comfortable taking an imperfect system and driving it all the way to completion.
Application Closing Date
Not Specified.
6.) Concierge
Location: Lagos
Job Description / Responsibilities
The Dukka Concierge's duties and responsibilities include greeting visitors, helping them navigate through an office, and supplying them with refreshments as they wait.
In addition, they maintain calendars for appointments, sort mail, and plan travel arrangements. and offer other clerical duties.
A good Concierge is organized, communicates well, and practices excellent time management skills.
In addition, because they're often the initial contact for customers and clients, they must have excellent customer service skills, be a problem-solver, and gracefully assist unhappy customers. If this is you, then we can't wait to have you!
This role reports directly to the Admin Manager/Chief of Staff.
Responsibilities
Greet clients and visitors with a positive, helpful attitude.
Receiving visitors at the front desk by greeting, welcoming, directing and announcing them appropriately.
Assisting clients in finding their way around the office.
Making appointments for all staff or for specific employees, such as executives.
Organizing files for billing, customer and client records, etc.
Preparing meeting and training rooms.
Responding to all customer inquiries in a polite and timely manner.
Ensure reception area is tidy and presentable, with all necessary stationery and material (e.g. pens, forms and brochures).
Provide basic and accurate information in-person and via phone/email.
Performing ad-hoc administrative duties.
Maintain office security by following safety procedures and controlling access via the reception desk (monitor logbook, issue visitor badges).
Qualifications
Associate's or Bachelor's Degree in a related field.
A Bachelor's degree in a relevant field is preferred.
Proven work experience as a Receptionist, Front Office Representative or similar role.
Skills and Qualifications:
Customer service attitude.
Consistent, professional dress, and manner.
Excellent written and verbal communication skills.
Competency in Microsoft applications including Word, Excel.
Good time management skills.
Highly organized.
Highly dependable and trustworthy.
Decision-making skills.
Application Closing Date
Not Specified.