Fed Poly Kaura, Namoda – To the General public, the Management of Federal Polytechnic Kaura Namoda has released the 1st batch ND admission list for the 2021/2022 Academic session.
Admission list is now available on the school portal.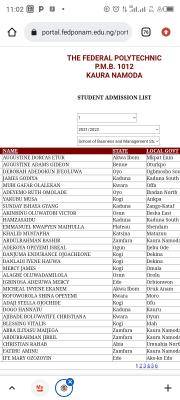 How to check Federal Poly Maura Admission List on the school website
I. Visit http://portal.fedponam.edu.ng/portal/Addmissionlist
ii. Select admission batch number
iii. Select the academic year I.e(2021-2022)
iv. Select your Faculty
Proceed to view your Admission list.
Congratulations to the Admitted ones!!!