Olman Business Solutions (OBS) Limited Job Recruitment- Olman Business Solution is a multidimensional consulting firm keen on providing complete management and support solutions to organizational needs in diverse industries and business sectors, for effectiveness and efficiency.
Apply for the ongoing Olman Business Solutions (OBS) Limited Job Recruitment 2022(3 Positions). Interested applicants should see the available job positions, requirements, and how to apply.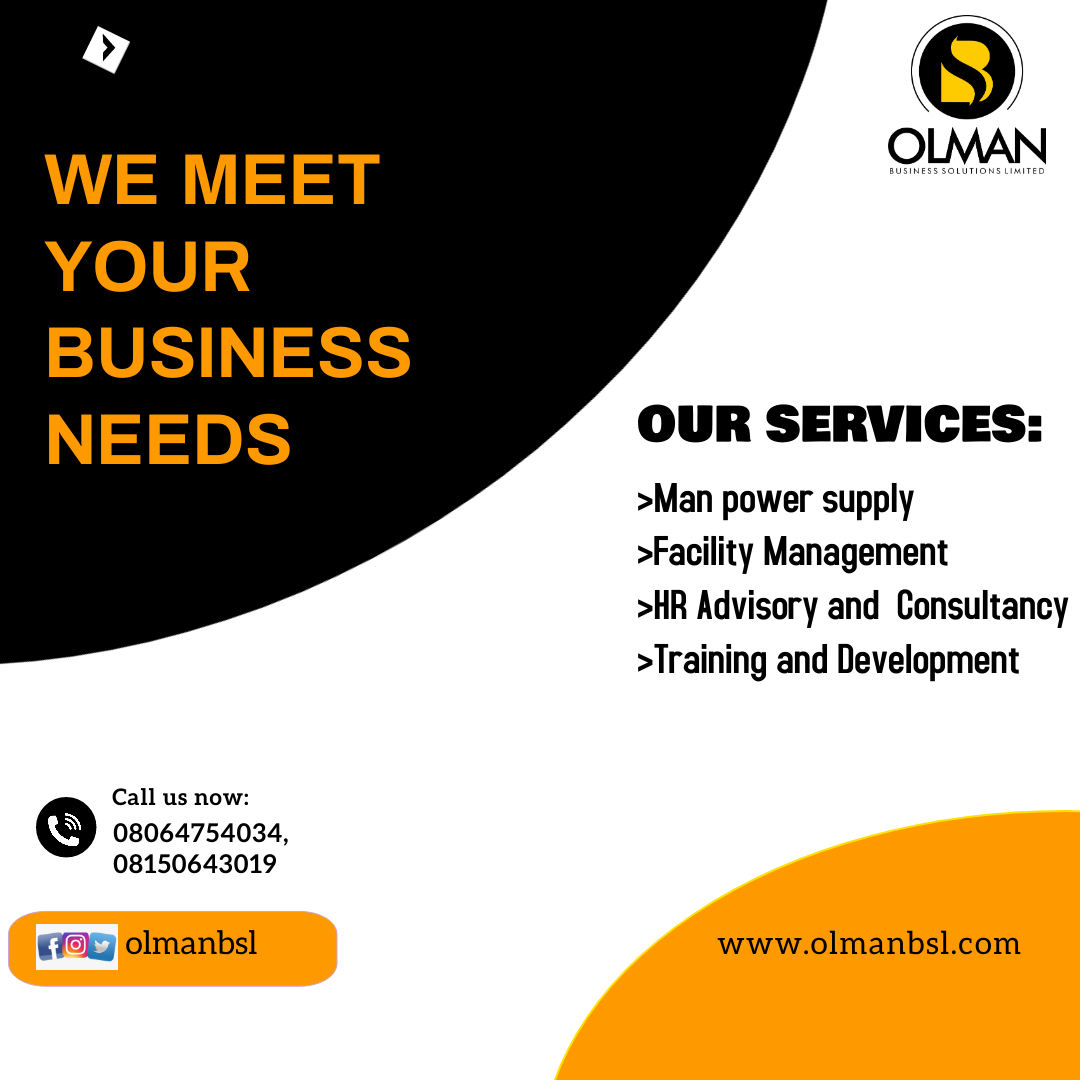 We are recruiting to fill the following positions below:
1.) Admin / Account Officer
Location: Rivers
Responsibilities
Prepare regular reports on office administration budgets and expenses
Review utilities consumption and strive tominimize costs
Develop and handle proposals and contracts with service providers
Perform analysis and forecasting for office and facility management
Prepare regular management reports capturing all office activities, challenges, recommendations for improvement and budgets.
Organize a filing system for important and confidential company documents
Receiving and confirming of supplies from vendors
Monitoring all bank transaction
Process bank deposits and reconcile financial statements
Prepare and process client invoices.
Contact clients and send reminders to ensure timely payments
Identify and address discrepancies
Generate book-keeping reports on the status of accounts payable and receivable
Cross-check invoices with payments and expenses to ensure accuracy
Track company's expenses and process refunds/reimbursements
Prepare financial report
Arrange company travel and accommodations as requested
Schedule in-house and external events and training sessions
Manage office supplies and order new supplies as needed.
Ensure that basic facilities, such as water and heating, are well-maintained
Qualifications
OND / HND or Bachelor's Degree in Business Administration, Accounting or related field
At least 2 years work experience.
Proven work experience as an Account Officer or similar role
Working knowledge of accounting, and Bookkeeping tools.
Proficiency in using Microsoft Office applications
Skills / Requirements:
Must have good Analytical skill
Must be detail oriented
Ability to deal with work of a confidential nature
Ability to multitask and meet deadlines
Effective planning & coordination skills
Effective written and verbal communication skills
Time Management skills
Problem solving skills
Excellent interpersonal skills.
Application Closing Date
31st July, 2022.
Method of Application
Interested and qualified should send their CV and Cover Letter to: [email protected] using the Job Title as the subject of the mail.
3.) Operations Manager
Location: Rivers
Responsibilities
Plan, supervise and coordinate all catering operations activities of the company in line with Hcue policies, Procedures and Processes.
Prepares monthly and annual operational material budget for management consideration.
Manage the Catering Operation with the available resources within budget and to achieve sales, cost of sales and gross profit targets.
Ensures that all company assets are safeguarded.
Coordinating the pursuit of mature retention and outstanding payment on contracts.
Establish parameters for a business plan and update them as necessary.
Work closely with business development manager in bid preparation.
Preparation and timely submission of accurate monthly and quarterly production report to reflect business performance.
Preparation of annual catering budget for management review and approval
Timely submission of relevant camp operations documents (signed recaps and meal sheets) for prompt invoicing to client.
Liaison with clients.
Manage and control service offers to deliver agreed service specifications and performance to clients.
Liaison with company Finance, Procurement and QHSE departments for effective coordination of catering activities.
Ensures sound and effective relationships with past, current and prospective clients for business growth.
Ensures that regular reports on financials and production activities of the company are produced and updated.
Regular preparation and reporting of operational activities at the various locations. This includes menu compliance, client feedback on service performance and general staff performance on their tasks.
Analysis of periodic reports of project operations.
Monitors preparation of weekly menu by Operations Supervisors/Camp Bosses.
Monitors full compliance to the menu to clients at the various locations.
Skills / Qualifications
B.Sc Degree or HND in Food Science & Technology, Hotel & Catering Management.
Minimum 10 years post qualification experience
Professional Certification in Food Safety and Hospitality Management.
Prior experience in industrial catering operations is mandatory
Proficient in the use of MS Office
Excellent Leadership Skill
Oral & Written Communication skills
Excellent presentation skills
Excellent Logistics & Project Management skills
Customer Orientation
Work Planning and Management
Cost Optimization
Strong business/commercial acumen.
Team Building.
Application Closing Date
Not Specified.
How to Apply
Interested and qualified candidates should send their CV and Cover Letter to: [email protected] using the Job Title as the subject of the mail.
8. Catering Camp Boss
Qualifications / Requirements
HND / B.Sc. / B.Ed. / B.Tech
Minimum of 4 years experience in this position.
Must have HUET/BOSIET
Proficiency in using Microsoft Office applications
Compliance to basic food hygiene and Safety.
Excellent communication and interpersonal skills.
Ability to work under pressure and must be result oriented.
Strong analytical and problem-solving skills.
Leadership skills
Skills:
Financial Analysis & Interpretation
Work Planning and Management
Cost Optimisation
Building Relationships
Drive, Creativity and Tenacity
Strong decision-making skills
Time management skills.
How to Apply
Interested and qualified candidates should send their CV and Cover Letter to: [email protected] using the Job Title as the subject of the mail.
Application Closing Date
Deadline: 31st July, 2022.