UNIZIK  – This is to notify the general public that the online publication that is being widely circulated on a supposed 'Career Employment for Academic Staff at Nnamdi Azikiwe University. Awka' is fake.
The publication is another calculated attempt by fraudsters to rip off the unsuspecting members of the public.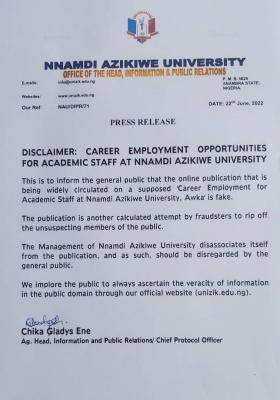 The Management of Nnamdi Azikiwe University disassociates itself from the publication, and as such, should be disregarded by the general public.
We implore the public to always ascertain the veracity of information in the public domain through our official website (unizik.edu.ng).